Rooms of your hotel in Plouescat
Brit Hotel & Spa Côte des Sables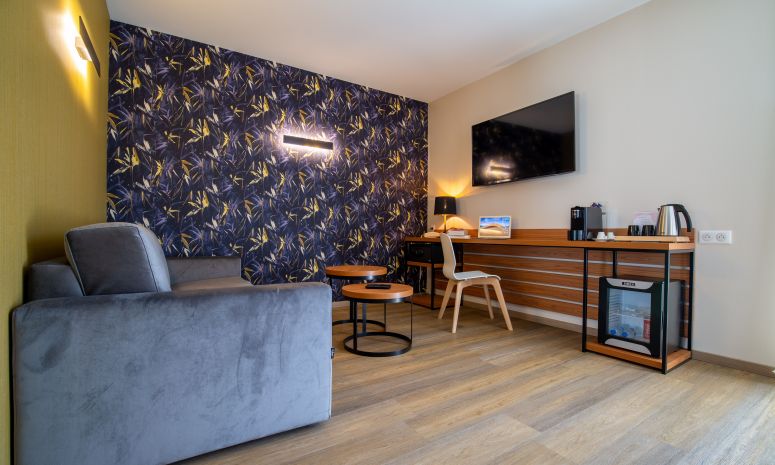 Rooms of your hotel in Plouescat
Brit Hotel & Spa Côte des Sables
Our advantages
Front of Kernic Bay

Nautical activities, sand yachting nearby
Our rooms
Comfort room with or without sea view, junior suite or suite, you will inevitably find the room of your dreams at the Brit Hotel & Spa Côte des Sables in Plouescat!
Each of our 41 rooms is equipped with all the necessary equipment for a successful stay: flat screen TV with Canal Plus, phone and private bathroom with shower or bathtub and hairdryer. Enjoy our free Wi-Fi internet connection!

Parking

Free Wifi
Restaurant

Canal+

Animals accepted : €10,00

Air-conditioned rooms

Sauna

Steam Bath

Spa

Air-Conditioned Restaurant
Indice de
Satisfaction client
Type de chambre
Tarif du jour
Nombre de chambres
Plouescat
Near the hotel
- the sea
- the casino
- the farmers' market (Saturday)
- the Dune of Kéréma
- Les Halles
- Honey Farms
- the hippodrome marine
- the nautical centre: sand yachting, kite surf...
Access
From Rennes:
On the way to Saint Brieuc/Brest, after Morlaix, follow directions to Roscoff then Plouescat.
From Brest:
On the way to Saint Brieuc/Brest, right before Landivisiau, follow directions to Plouescat.

In Plouescat, follow directions to the casino. The hotel is facing the sea, next to the Casino.
Indice de
Satisfaction client
Good hotel. Breakfast: I was missing some fish. The WIFI was the worst I have seen for years. Impossible to work
Read more
Not good. After a long drive we were looking forward to using the swimming pool. However on arrival we were told it was closed. We chose the hotel because of the pool. We regularly stay in Roscoff due to ferry crossing from there. We decided to try the Brit Hotel at Plouescat for a nice change. We were disappointed. The man at reception was very good and he promised a discount on our restaurant bill because of the swimming pool being closed. We were very impressed and pleased at this gesture. However, the main course at the restaurant was not cooked properly, we had the fish and it was almost raw, especially my wife's meal. The restaurant was busy and it was difficult to get the attention of a waiter, My wife ate the frites but left the fish. She was given an extra portion of cheese to make up for it, but that was not really acceptable. The meal was expensive 29 euros each plus a bottle of wine at 20 euros. We also had aperitifs, ( wine and beer) before the meal. When we paid the bill the man at reception did not charge for the aperitifs but we still had to pay full price for the meal and bottle of wine, a total of 78 euros. Staying at a hotel and eating in the restaurant is a special occasion for us and unfortunately because of the meal not being cooked properly it was spoilt. We understand that the swimming pool can occasionally have to be closed but there is no excuse for not cooking the food properly, something we would not expect ,especially in France.
Read more
We had a most Enjoyable holiday in your hotel and we look forward to returning next year
Read more